George Gerwing
By: Bernadette (Gerwing) Greuel
George Gerwing was born in 1881in Minnesota. He had seven brothers when his mother died. He had finished the "Fourth Reader" in school so he stayed home to do the cooking. After their father brought home a new mother, he still was the bread baker for the new family which soon grew to eleven boys.
In February of 1903 George and brother Barney (Bernard) came to Lake Lenore SK Canada and set up a camp, (on their homestead). Barney and Anton Revering went back to Rosthern SK to get more supplies and George and Pete Wolsfeld were left with a wagon box as shelter. Due to bad weather, no one from his family came until late May. Shot gun shells and food were scarce. One day George went out to shoot one of the big birds along the shore of Lenore Lake. With one shot he killed two of them which they cooked in a syrup pail. But, they quickly concluded that pelican is impossible to eat. After that, the local natives took pity on them and supplied them with whitefish.
By the time the rest of the crew arrived from Rosthern, Pete and George had dug a patch of land for a garden, had logs ready for a building, dug a hole and built a lime kiln which the first pioneers used to chink the logs for their homes. Living in a wagon box all that while was not like modern day camping.
In 1906 George and his friend Mike Abel had a double wedding with two sisters, Katherine and Anna Gaetz. Katie (Katherine) died in the 1918 flu epidemic and George was left with three daughters and two sons, one of whom died later in the year. He quit farming and started a store and eventually a post office. Due to ear infections suffered while living in the wagon box, George was nearly deaf. He would be quite annoyed if anyone came to the Post Office and did not speak directly to him, because he relied almost entirely on lip reading. He was a determined and resourceful man.
Emma Ahle (George's second wife) was born in Nebraska in 1896. Her father was a shoe and harness maker who hoped that all his children would be educated, so his five daughters worked for room and board and were taught by Franciscan nuns.
Emma graduated from teachers college at seventeen. Her first job was in Casper Wyoming. The kids in Casper played rodeo and bucking broncos at noon recess. When she was 20 Emma was engaged but later decided that being married at that age is not what she wanted. Her uncle Henry Schulte from Marysburg wrote to tell her that the school at Willmont needed a teacher for 55 students, so she came to Saskatchewan. After the first year one of the school board members suggested that mabe they should pay her less than the previously agreed on salary. However, after a discussion they decided to pay her more and increased her salary for the next year.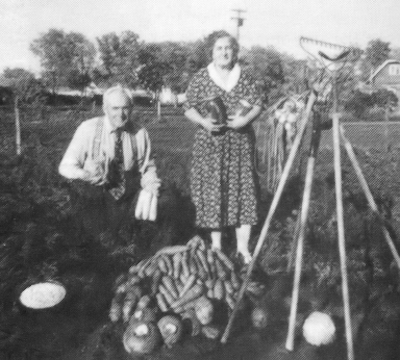 Later Emma met the Gerwings. Her cousin Molly had married John Gerwing. In 1920 Emma married George Gerwing a widower with children fourteen, eleven, seven and four years old. One day the step children asked for raisin pie. They looked forward for the pie to be served at supper the next evening. When Emma cut the pie raisins rolled all over the floor. She didn't know that they had to be cooked! But she got an old cookbook and was a quick learner.
Three disasters happened to George during the next years – he was helping move his mother's house and the poles used for moving it escaped and both his legs were broken. Then one winter when the rink opened the kids put him on the end of "Crack the Whip" and he broke both arms. During another winter, due to rheumatoid arthritis or rheumatic fever the doctor ordered bed rest for six months. During each of these times Emma took over the work in the Post Office.
In 1828 ten young men emigrated from Hungary to the Lake Lenore area. Emma went back to her love of teaching. Every week she met with the Hungarians in her home to teach them English so that they could become Canadian citizens. She was a caring woman in the community.
Notes:
Photo above:
George and Emma in their garden at Lake Lenore, SK
George and Katie's children were: Anne, Frances Katherine, George and Alfred as well as a daughter and twins that died in the 1918 flu epidemic
George and Emma's children were: Sylvester, Benedict, Maurice, Henry, Severign, Bernard, Bernadette and Dolores