Unexpected Visitors
(as recalled by Herman J. Gerwing)
Joseph Gerwing senior's homestead (farm) was on the SW-2- 40-21-W3 about 3 miles east of the present village of Lake Lenore, Saskatchewan, Canada.
The railway did not reach the community of Lake Lenore until 1920. Construction on the first grain elevator began in 1919. So from 1904 to 1920 pioneer farmers like Joseph had to haul the grain they produced to Muenster, Humboldt or St. Brieux situated along the nearest railway lines. The trip one way was about 17 miles. That was a formidable distance overland by horse and loaded wagon (or sleigh) considering the lack of roads at that time. Joseph, like many of his neighbors would take a load of grain to Muenster & then return with a load of lumber for construction of the farm buildings. The round trip would usually be made in one day! The main buildings (house, barn & granary) on Joseph's farm were constructed in 1916-17 under the supervision of a carpenter from Marysburg by the name of Goldbach.
The house was actually built in two stages. The first section was built by Goldbach & the addition by Joseph Gaetz.
During those early years some of Saskatchewan's First Nations Peoples still lingered in the Lake Lenore area, maintaining a campsite on a corner of Jakie Stuckel's property just a mile or two east of Joseph Gerwing's farm. Settlement had dramatically reduced the supply of wild game needed to sustain them. They eked out an existence by hunting for what small amount of game was left and doing odd jobs for the settlers. The natives became adept at arriving at meal times, so the settlers would share their fare and send them on their way.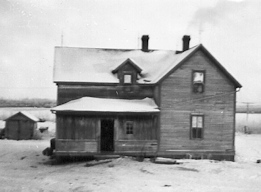 On a summer day in 1917, Joseph was away to Muenster on one of his grain hauling excursions. His new wife, of less than a year, Anna (Gessner) was at home alone tending to the farm chores. That was the day a group of local first nations people picked for a neighbourly visit(and hopefully a meal) to the Joe Gerwing farm. They knew the Gerwings had fresh pork since one of them had helped Joe butcher a pig only a few days previously. Anna saw them coming down the road and became very frightened. She had never been alone before during one of their visits. She quickly locked all the doors and hid herself beneath the bed. She remained there motionless and numb with fear for several hours as the visitors lounged about in the farmyard, periodically rapping on the house door. After what seemed to her an eternity the visitors departed surmising that no one was at home.